"Mindful Explorers" membership program is for busy teachers, parents, counselors
(or anyone else who loves children)


*no-prep* *ready-to-go* *pre-recorded* *self-paced*
Thematic social-emotional learning (SEL) lessons, mindfulness practices, and extended activities for elementary school level. Resources for adults, too!
UPDATE: FEB 2023: THIS COURSE IS CLOSED FOR NEW ENROLLMENT AT THIS TIME WHILE UNTIL ITS COMPLETION. SIGN UP FOR EMAIL UPDATES IF INTERESTED IN SUBSCRIBING UPON COMPLETION.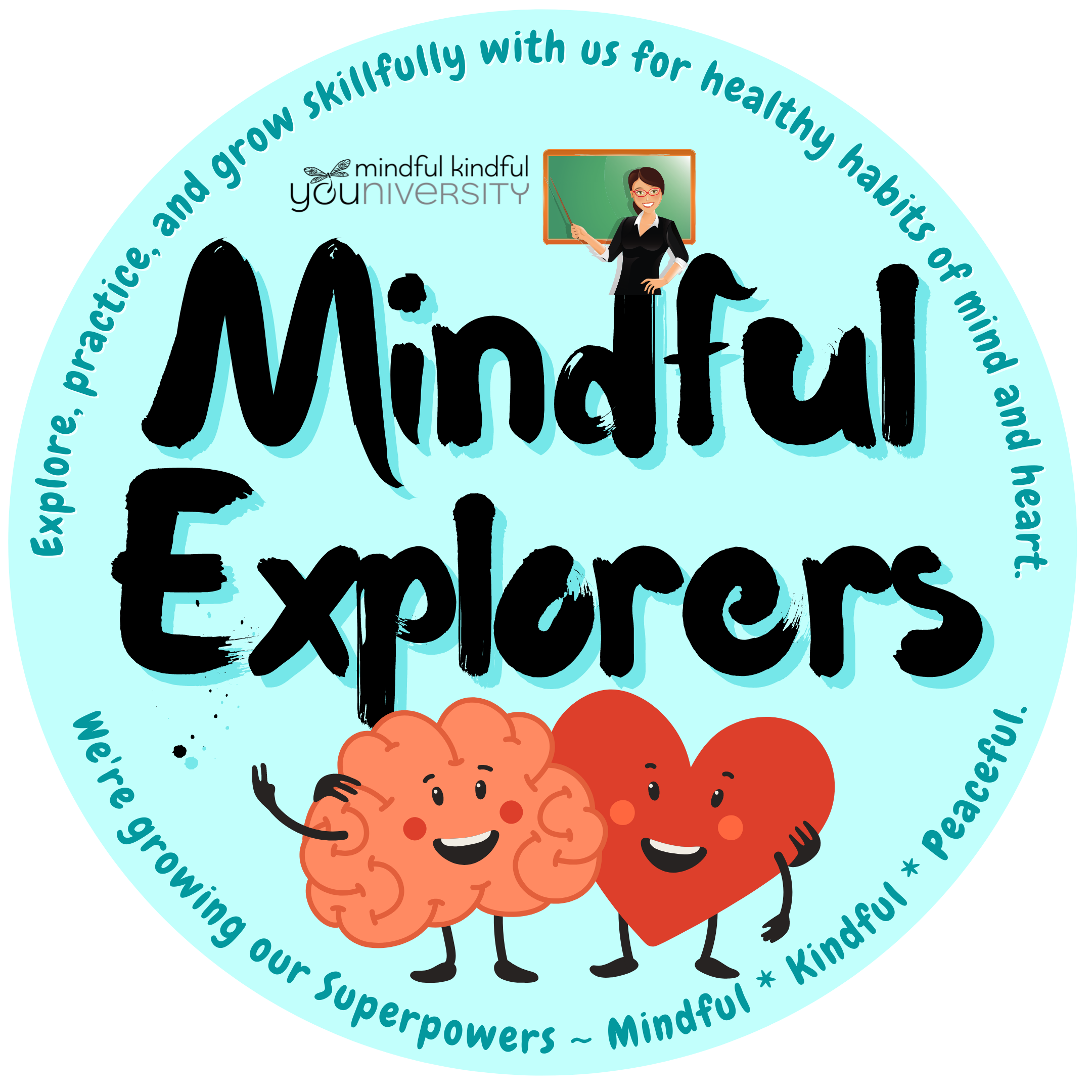 Introduce mindfulness-based social-emotional learning (SEL) with "Mindful Explorers" in your classroom or home (or supplement an existing program).
The "Mindful Explorers" program provides a rich experience for elementary school students, and their teachers, through learning and engaging in evidence-based practices of trauma-informed mindfulness and social-emotional learning to support social, mental, and physical health & well-being, while laying the foundation to succeed in school and in life. 
"Mindful Explorers" is a unique school/home program which offers an essential education for responding more skillfully to life in the 21st Century! We know this pandemic has exacerbated the challenges with social-emotional skills and mental health, but where do we begin? We begin within. Help your students discover their inner "Superpowers" or resources for resilience, happiness, and well-being to help them now, and throughout their lives!
I'll guide and support you along the way to help you establish a program and provide the ready-to-go curriculum for you to support your students!
-Dee DiGioia, Your Guide and Founder of Mindful Kindful YOUniversity
*NOTE: We know "it takes a village to raise children" - this program is not just for classroom teachers - it is also beneficial for parents (a child's first teacher), grandparents, counselors, after school instructors, or anyone helping to raise children!

Grow skillfully with us!
Let me be your guide!
Over the last few years, resources on mindfulness and social emotional learning have proliferated and you may feel overwhelmed with where to start. That's how I can guide you. If you're going to invest, go with the best - start your program off under the guidance of a trained, certified, and experienced specialist. I have spent many years teaching, exploring, and training (and continue to train) in the sciences of Mindfulness, Positive Psychology, Cognitive Behavioral Psychology, Movement & Yoga, Eco (Nature) Psychology, and more. This proprietary program blends each of these to empower Explorers with emotional intelligence life skills, or "Sm'Heart skills", that will support mental health and well-being, now, and throughout life. 
Thematic Learning Module Themes
Each learning module has a different mindfulness-based social-emotional learning theme that will be the focus of exploration around emotions, thoughts, relationships, and behaviors:
* Attention * Emotions * Thoughts (metacognition) * Cultivating Positivity * Compassion * Nonviolent Communication, and more!
Through a cohesive program, your students will explore and practice the essential life skills for working with negative emotions and experiences, while also increasing the capacity for positive emotions and experiences! Students learn to develop resilience, while also developing the skills for empathy and compassion. Many of the themes and lessons draw from the mysteries, metaphors, and magic of nature, and the nature of ther own minds, to help students learn about themselves, as well as their relationships and connectedness to others and the world around them. 
Emotional Intelligence
Emotional intelligence is the ability to understand and manage our emotions, and to understand and respond effectively to the emotions of others. These are internal and interpersonal skills that can be acquired and improved with practice. According to CASEL, the Collaborative for Academic, Social, and Emotional Learning, social and emotional learning is the process through which children and adults acquire and effectively apply the knowledge, attitudes, and skills necessary to:
understand and manage emotions

set and achieve positive goals,

feel and show empathy for others,

establish and maintain positive relationships, 

and make responsible decisions.
Well-being is the most important education we can give to our students and ourselves! 
Well-being is a skill, and like all skills it must be learned and practiced. Through the Mindful Explorers program, we cultivate the core competencies of emotional intelligence and essential life skills through exploration, regular practice and repetition to empower and equip students with the knowledge, tools, and confidence to move through the everyday challenges which arise in school, at home, and in life. The more our children/students practice healthy ways of responding to life in times of calm, the more prepared and available they are to take in higher learning and flourish.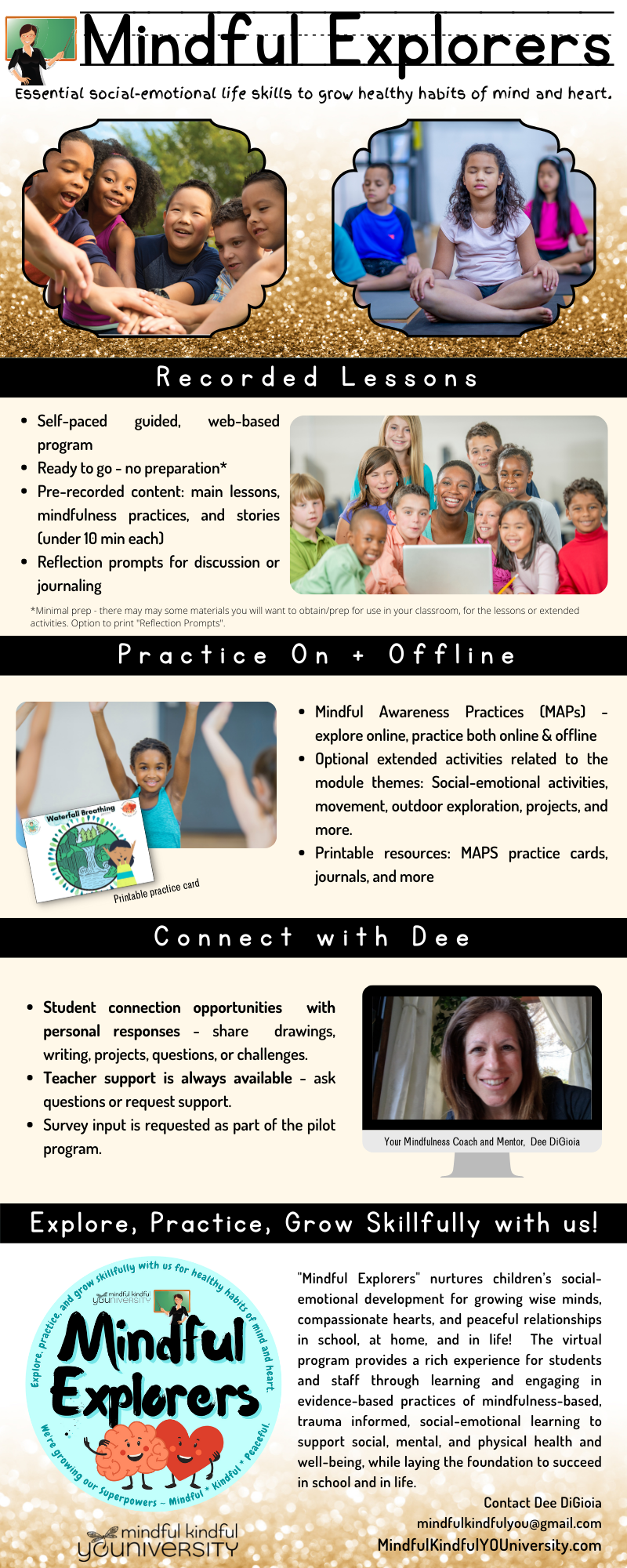 Learn, practice, and grow skillfully with us -- mindful, kindful, peaceful.
Our student's social-emotional development is nurtured for growing wise minds, compassionate hearts, and peaceful relationships in school, at home, and in life, as we practice the skills to be mindful, kindful, and peaceful. Students will experience resilience and a sense of mastery as they explore and develop the foundational skills for emotional intelligence to flourish socially & emotionally.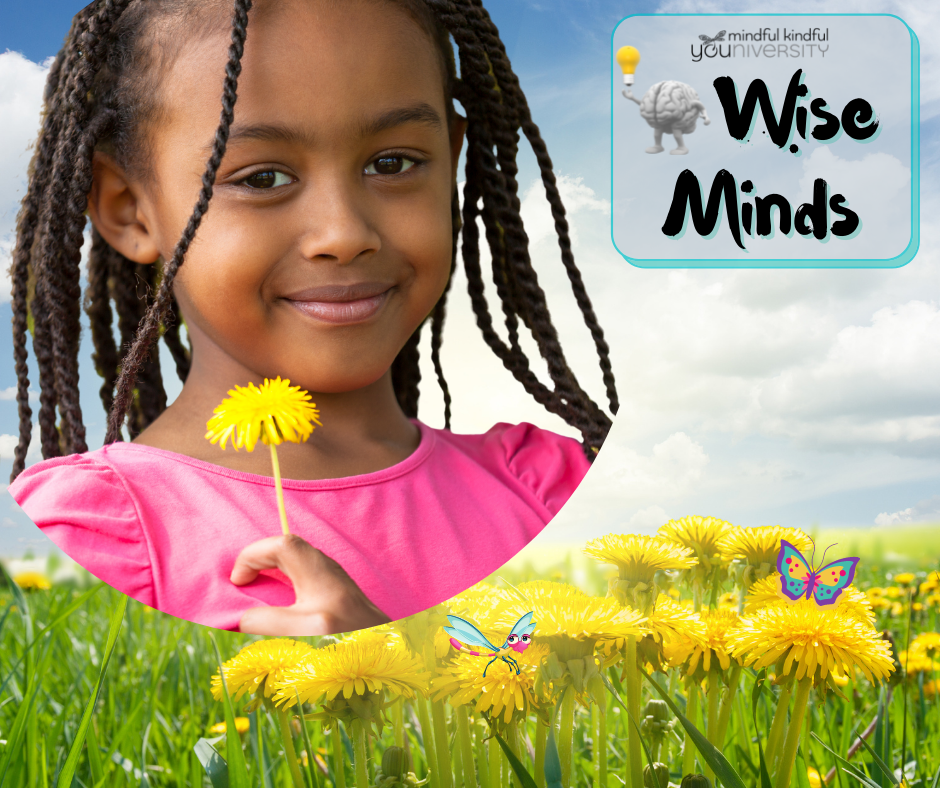 Words from a 4th grader:
"I learned that sometimes taking a moment to take a deep breath and reflect can feel very good and make all your stress and worries go away."
Words from a 1st grader:
"My favorite mindfulness practice is sending "kind wishes"! May you be safe. May you be happy. May you feel love and peace."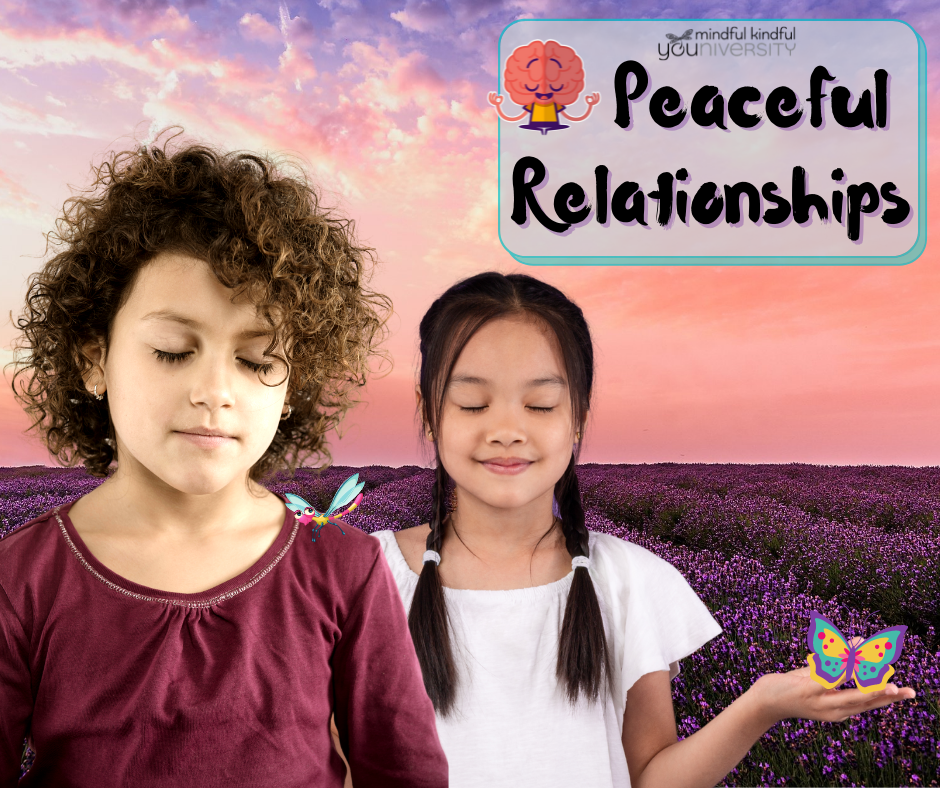 Words from a 3rd grader:
"Mindfulness helps people get out of trouble. When I was getting mad, I stopped and breathed and I walked away so I can avoid a fight between me and my sister."
Testimonials
"First of all I want to say how impressed I am with this virtual program you have put together for children. I'm just over the top amazed at what you have done. I am in awe of your talents, energy, and your wise and-much-needed teachings! Thank you so much, Dee." - E.S.
"The lessons are presented in a clear, high interest/creative and yet down to earth way so that my grandson and I appreciate, enjoy and can apply what we learn immediately. Between lessons it's easy and natural to talk about our experiences because he remembers the stories in the videos. The lessons are very effective. My grandson can verbalize how he feels calm and how his body "feels good" after doing the practices. Our pace is slow so I appreciate the flexibility built into the modules. It's very easy to use and very enjoyable learning! I rate the videos and material presentation as a 10/10!! I was surprised to find the chapter "Just For You" and it took me a while to figure out it was actually for me! Nice one! Thanks Dee, you're amazing!" - Helen Trevelyan
"I think this is beautifully made. You did a phenomenol job with your illustrations - you're very talented. I think people are going to be really excited to use it and think the kids are really going to benefit from it. I'm really excited that my daughter is here and that she will get to enjoy it." - Assistant Principal, Plato Academy - Palm Harbor, FL f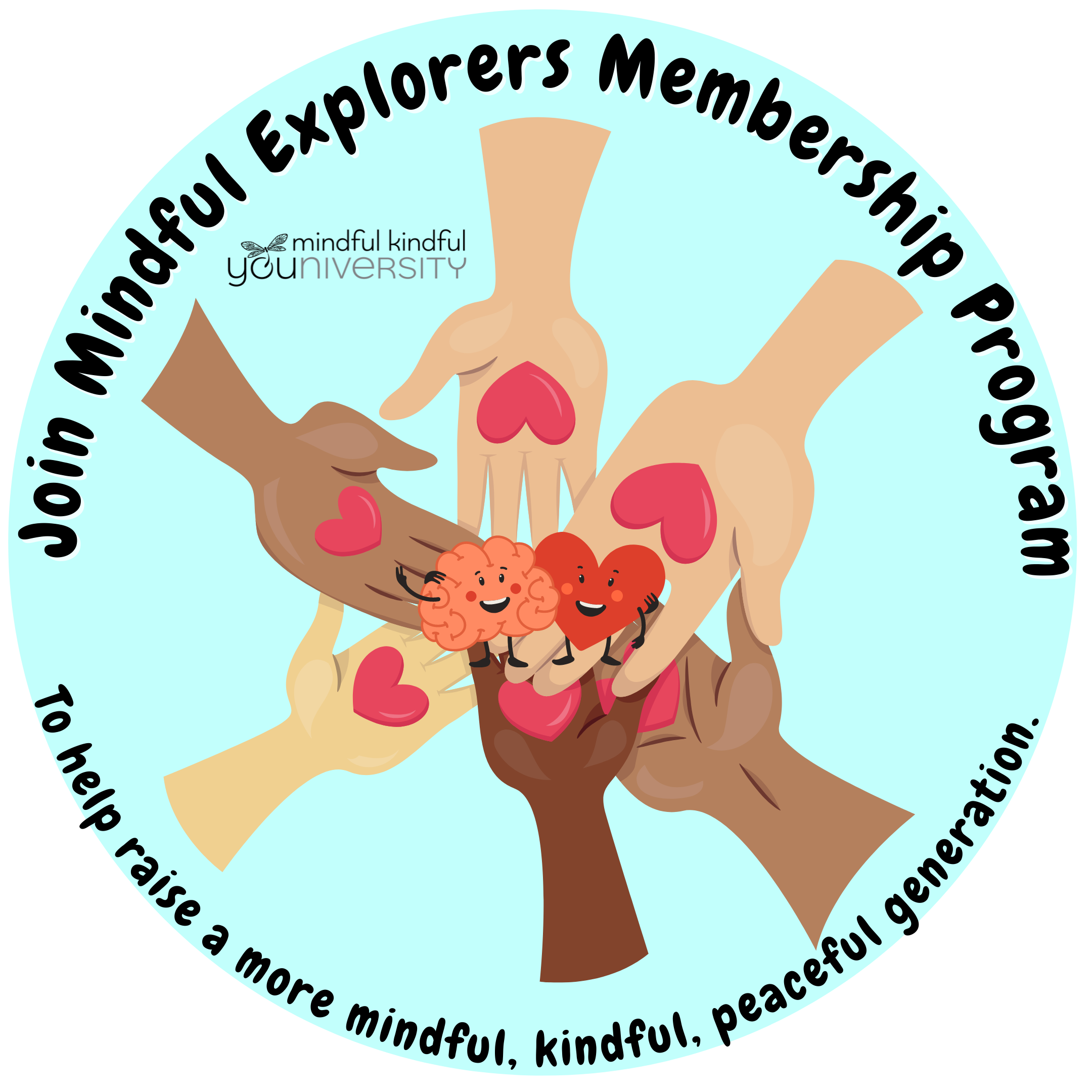 Join our membership!
This invitation goes out to teachers, counselors, parents, home-school teachers, after-school instructors, caregivers, or anyone else who works with youth!
This self-paced pilot program is an evolving program as I transform my in-person curriculum and years of resources and experience teaching into a pre-recorded format that will be conducive for virtual learning so you will have everything prepared and ready to go for use with your students/children: pre-recorded lessons, practices, and stories as well as extended activities, journaling pages, and more!
Released to date: As of August 2022, members have access to a "Welcome & Orientation Center" module; learning Module 1 - "Introduction to Mindfulness - Awareness and Attention"); Module 2 - "Emotions and Energy" (featuring "Anger"); Module 3 "Taking Care of Worries"; Module 4 "Mapping Our Way to Happiness"; and Module 5 "Taking Care of Sadness". (See sampler videos below.) Plan to spend about one month per module.
The goal is to have "Phase 1" (8 modules) completed by the by the end of February 2023, however, the creation of the modules will not be rushed simply to meet this deadline as I prefer to be mindful of putting together quality resources for you. Also there is no "completion" on my end - as things develop additional resources and extended activities will continually be added to each module. Once Phase 1 is completed, I will let you know what's in store for "Phase 2"!

Sampler video - Introduction to Mindful Explorers
This video is a sampler of our student introductory video to the "Mindful Explorers" program where I introduce myself and the program - the who, what, and why of it all -- including helping students make connections as to how mindfulness might be relevant or helpful for them through the examples given.
Video - Peek inside the modules
Are you wondering what it looks like as a member? Here is a peek into the "Mindful Explorers" program on "Teachable." Feel free to contact me for a live personal tour.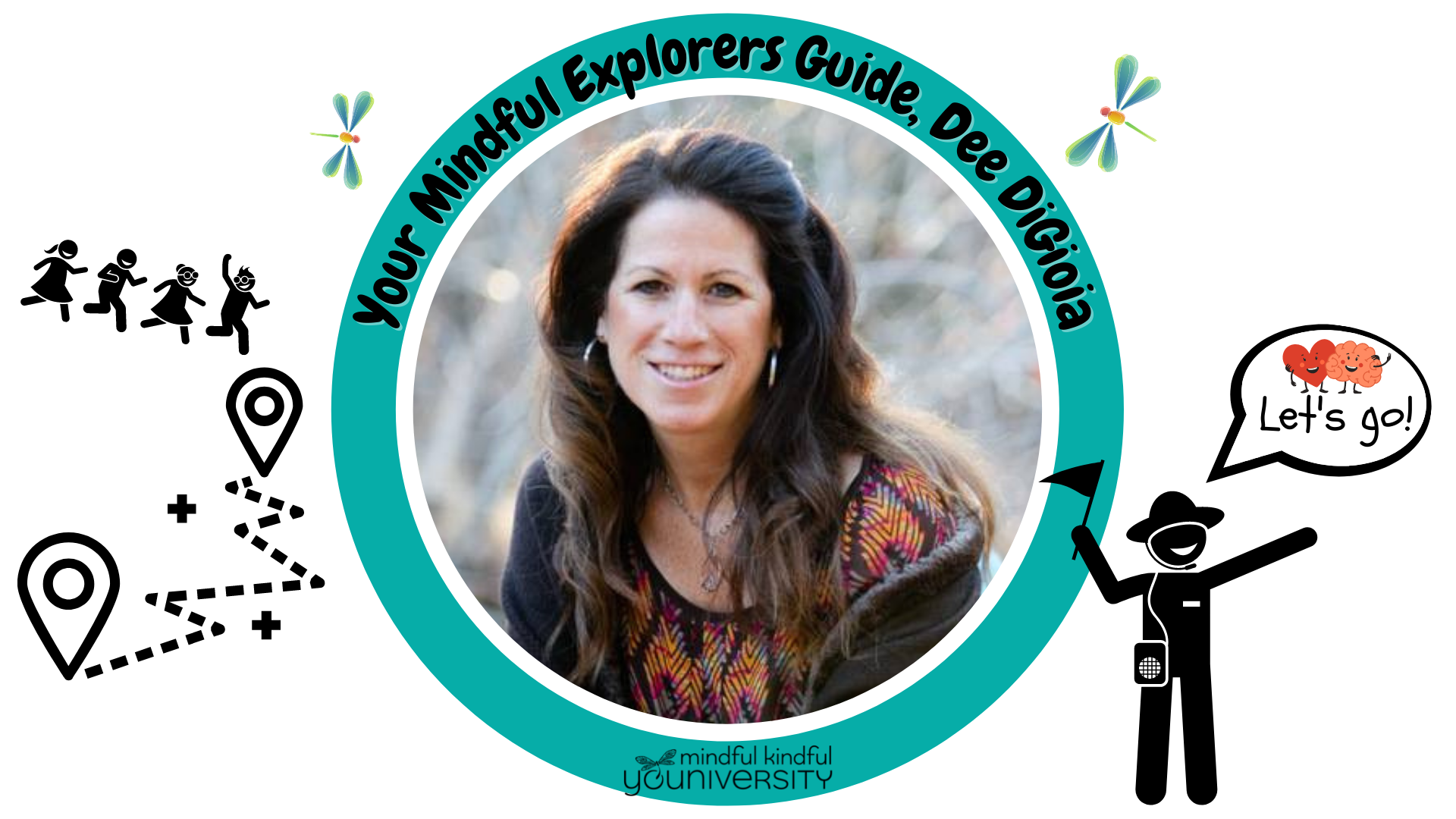 Your Mindful Explorers Guide, Dee DiGioia
As an educator in schools, the skills I am passionate about sharing with youth are the ones I see are missing from our school curriculums and the missing piece (and peace) in educating the whole child. Personally, I wish I had learned these skills as a young child who struggled with severe anxiety and trauma.
As an educator in schools, I understand, firsthand, the challenges of stress and burnout working in public education and know far too many fellow educators who feel the same. I am equally passionate about sharing these skills with educators and parents like you to support you in your challenging roles. 
- Dee DiGioia (di JOY uh) 
Certified Mindfulness Educator, Life Skills Coach, and Founder of Mindful Kindful YOUniversity
[Click here for info about my journey, experience, & credentials]
Check your inbox to confirm your subscription.